Blog Content
I was honoured to attend theAPSCo Awards for Excellence. A massive room at the RBS offices, full of recruitment professionals trying to act cool, whilst waiting for the decisions about their awards entries.
​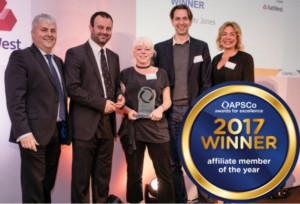 ​
I was doubly honoured to be shortlisted for the Affiliate of the Year – and WE WON! I did not act cool when they read Barclay Jones out… I was a proper giggly girl (and so was Wayne!)
"Barclay Jones showed very strong evidence of commitment, investment and support of APSCo throughout the year. Very supportive of APSCo ideas and helping them to explore new initiatives."
Plus, what an honour to listen to David D'Souza from theCIPDtalk about dinosaurs, tell really funny jokes, and also ask some pretty pertinent questions about recruitment and the future.
The Association of Professional Staffing Companies
The APSCo awards are close to my heart. We talk a lot about Recruitment Awards on our blog and have created an e-bookto help you win (and of course place more candidates and make more money!). We ran a webinar all about awards with APSCo earlier this year.
"These awards are now firmly recognised as the most prestigious accolade in professional recruitment and are a unique indicator of standards throughout the sector. The annual event has become the premier showcase for innovation, best practice and outstanding achievements which acts as a catalyst for firms to attract publicity and build their brand amongst key stakeholders."
The APSCo awards process seems to be the most rigorous in the recruitment sector. Not simply an application form rigorously nurtured by an already busy marketing team – but an opportunity to sit in front of a gruelling panel, sweat, shake and justify your existence… yes an "opportunity".
This interview really sets the tone for the APSCo awards – they are professional and they force the applicants to get involved and take them seriously. Don't dare send anyone other than the leaders of the business for the grilling – APSCo will simply blink at you! (And rightly so!)
When Wayne and I left our interview, we were hyper, terrified, on fire, elated… talking about your own business is an emotional process!
"I'm absolutely ecstatic! The APSCo Awards for Excellence are very well respected in the industry and it was wonderful to be a part of the event. It's a credit to our team for all their hard work delivering great services to our clients and partners over the years."
Look in the Mirror, Recruiters!
I tell my clients that one massive benefit of going through an awards process is that it forces you to look in the mirror. Recruiters (you) spend all your time (too much of your time) servicing your clients, and not enough on your most important client – your own business!
Not enough time is spent having process health checks, training your people or generating ROI from your systems… but these are the three most important assets in your business. Going for an award can really get you thinking about all three: people, process, systems.
Risky Business – APSCo Awards
Going for a recruitment award is a risky thing to do. What if you don't get shortlisted? What if you don't win? What if you mess up the "exam"? So much risk that the majority of recruiters shy away with excuses like:
"They're fixed" (they're not… and if you know otherwise – call them out!)

"They're time consuming!" Running a business, making a profit, getting great client testimonials – time consuming too, but necessary for sustainability!

"I'm not sure which category to go for…" Being a judge on the Recruitment International Awards I can vouch for the fact that when only 4 recruiters apply for the "Best candidate Service Award" – the one that every recruiter should be wanting to win… there is a category for every recruiter.
Think about it – Barclay Jones, a tiny team of 6, stupidly busy with our clients, writes an ebook on how to win and generate ROI from recruitment awards. I put my money where my mouth is and entered… then I realised that if I didn't win, that wasn't a great testimonial for my advice.
So a big "Phew!" from Wayne and I – now onto the next phase – going through my ebook and following my own advice to generate ROI from winning an award. Watch this space.
BTW – best joke of the APSCo Awards:
There is a zoo in my village – it only has a dog. It's a Shih Tzu.
(thanks David!)
Recruitment Awards season is officially upon us.
Discover how you can generate ROI from recruitment awards events – whether entering, winning, or simply attending!
Download Our Awards ROI Toolkit
​HIIT Us, Recruiters!
Our high intensity interval training - Recruitment HIIT - helps recruiters source, convert quicker, and develop healthy pipelines, and recruitment marketers attract, engage, and retain candidates, generate clients, and colleagues (3Cs).
​
Extra Content 2