Blog Content
If retaining current clients is 6 to 7 times less costly than acquiring new ones, as a recruiter or resourcer, you need to focus on effective account management and BD driving your sales. In today's candidate-short market, it's becoming increasingly difficult to stand out from the crowd, especially considering 73% of recruiters are suffering from a candidate shortage.
On April 28th, Lisa spoke at Hinterview's online event, Building Winning Client Partnerships to Secure Quality Candidates.
Building a Winning Candidate
Attraction
Strategy
On average, recruiters take 13 hours a week sourcing candidates. That's way too much time – and leaves no time for screening, interviewing and, placing! Plus, the best candidates are off the market within 10 days! You need a simple yet effective recruitment strategy to attract your ideal candidates, so you can screen, interview and place them. (And perhaps, re-place them!)
Check out Lisa's panel discussion around attraction - Lisa joined Hinterview alongside a panel of recruitment leaders and experts to discuss:
How to overcome challenges in this candidate-short market

Top tips for attracting candidates

How to build lasting relationships and the importance of this in a candidate-short market

How to build an outstanding, fully optimised candidate journey
They shared their top tips to help you develop a simple yet effective recruitment strategy to attract your ideal candidates to your doorstep and engage, place and retain your candidates too.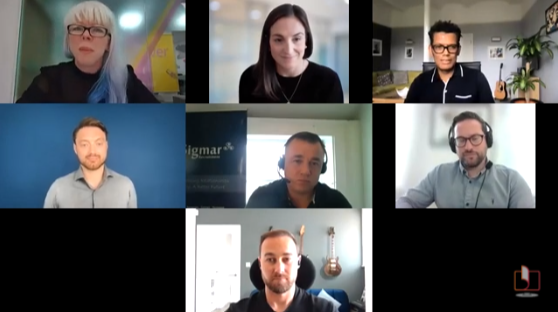 Building Winning Client Partnerships to Secure Quality Candidates
This year the panel came back to share how you can create a winning strategy to drive a super effective recruitment process through nailing account management and comms with your clients. The panel discussed:
Working with your client to embed effective marketing strategies that deliver serious ROI.

WIIFM – the benefits of having a recruitment workflow driven by close client partnerships – more candidates, a stronger pipeline.

How to work with your clients to streamline recruitment processes and secure quality candidates.
Speaking of Generating the 3Cs
We have a new Hinterview HIIT on our recruitment training platform, Recruitment HIIT, to help you add serious turbo to your recruitment processes. Hintro and Hinterview and game-changing tools that can give you the push you need to use video to drive engagement and generate significant ROI. Our Hinterview and Hintro HIIT will help you attract, engage, convert, and retain your ideal candidates and clients, and it's great for colleagues too! Watch the webinar then head over to Recruitment HIIT and discover top tips to boost your recruitment workflow.
HIIT Us, Recruiters!
Our high intensity interval training - Recruitment HIIT - helps recruiters and resourcers source, convert quicker and develop healthy pipelines, and helps marketers generate more of the 3Cs- candidates, clients, colleagues. We aim to save every recruiter and marketer at least 1 hour per day (6 working weeks a year) - more billing time, more fees!
We'd love you to try Recruitment HIIT for free for 7 days.
Extra Content 2