Blog Content
​Recruiters and recruitment marketers! This is a crucial read if you want to drive this year with a sales-led marketing strategy and "let's make some money from our recruitment CRM and Recruitment data" plan.
Stats tell us that you can improve productivity by 29% if you use your CRM effectively.
How Can You Make Money from Your Recruitment CRM?
Do you want to make money from your recruitment database (eg. Bullhorn / Adapt), or just spend money on it?

Do you want your marketers to generate leads, or just pretty pictures and mugs?

Do you want to ensure that your sales team are effective online, and not just on LinkedIn and job boards all day and still only place a small % of their jobs?
With the advent of Bullhorn buying Adapt, and Access Group buying Microdec and Volcanic recently, Brexit, and everything else in the recruitment tech and data space, you can be forgiven for wanting to scream…
can I just get on with flipping selling and recruiting?
These are all best in class recruitment systems, and when used well can really drive profit, if you have a strategy for that to happen!
Recruitment Tech – Data in, Invoices Out?
But irrespective of which system you have they all have one thing in common – what you put into them and what you get out of them. I've been talking to my clients about data, tech and marketing, with the sole aim of trying to help them make sense of something that has been evading them for some time – they have the same questions:
For me, it's simple. It's about 3 things: Data, Systems, People
Are People Really Your Most Important Asset?
We are often told that our most important asset is our people… but I beg to differ…
These days, I'd suggest that data is critical, systems are crucial – and process is the glue that joins the three crucial assets together. People make the systems work, systems drive the process.
Hence, people, process AND data are your most important assets.
I realise that whilst recruiters and their leaders are great at rolling up their sleeves and mucking in to hit target, recruitment systems and data still appear to be failing to deliver profitable processes. But are systems and data really the issue? Or are the people to blame?
Are Your Recruiters the Problem Between the Keyboard and Chair (PIBKAC)?
With 2/3 of the UK leavers last year quitting their jobs due to a lack of training, does the recruitment industry suffer the same fate? Does it have a lack of trained recruiters? What is the impact of this? Lost fees, bad reputation, candidates and client-disloyalty? (Currently the average 10-person recruiter blows £10k when someone leaves (contact me to see why).
Or, is your recruitment data still holding you back, even though, with GDPR, you thought you'd shed some significant "weight"?
Is your recruitment software driving recruitment process, or just driving your recruiters insane and they yell "it's admin"?
Recruitment Process is Key for this Year and Beyond
With the data you have, the systems you use, and the people you employ, you need something that binds them all together. PROCESS!
This is why I have come up with the model below. I call it my "dig up stupid" model. This came to me watching the Simpsons "Homer the Vigilante" episode.
​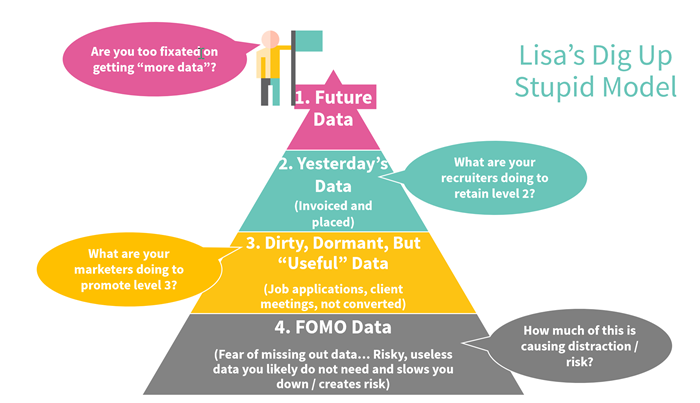 ​Admit it – as a recruiter you have "enough" data?
But do you have a process for capitalising on it, or simply searching it? Have you divided into 2 of your most important segments (level 2 and 3)? These are the people you have sold to and placed, and those you have met / engaged with but did not convert. What training are you given for effectively using your data and Recruitment CRM?
What recruitment systems and processes do you have for your recruiters and marketers to actively convert / retain this data? Or are you fixated on finding new data, and / or getting distracted with data that you genuinely don't need?
Recruitment Data + People + Process = Fees
Think about the cash you may be blowing by not training your recruiters to use your systems. And note, that 2/3 of job leavers last year quit through a lack of training.
Ask yourselves what you plan to do this year, with GDPR (and Brexit...) out of the way, how are you going to really monetise your recruitment technology?
Systems are one thing, getting your recruiters to use them… that's the key. That's why my team and I have created recruitment HIIT - the only OnDemand Recruitment Training Platform to have both Adapt and Bullhorn (and soon other recruitment software, recruitment best practice, LinkedIn, Job Adverts, Inbound Sales, Recruitment Marketing, and so on...)
HIIT Us, Recruiters!
Our high intensity interval training - Recruitment HIIT - helps recruiters source, convert quicker, and develop healthy pipelines, and recruitment marketers attract, engage, and retain candidates, generate leads, and colleagues (3Cs).

​
Extra Content 2